We try to utilize the latest technology to help improve the quality of dental care that we provide to residents of central Virginia.  Here are some of the ways that we use technology to aid in the delivery of your dental care:
Loupes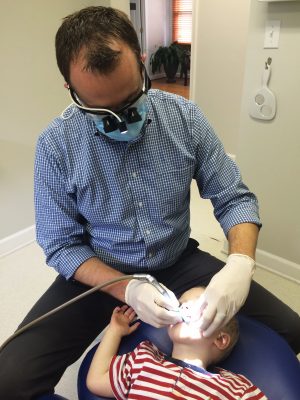 When performing dental procedures, I use glasses with built-in magnification and headlight. This allows me better visualize the intricate details of your teeth and perform excellent, quality dentistry.
Digital Radiographs
Lower radiation dose and ability to manipulate images on the computer allow us to provide a reliable, accurate diagnosis.
Root Canal Technology
We use an electronic device to accurately measure the length of your root canal. We also use a motorized, technologically-advanced root canal system which means we can perform better root canals than in the past.
Ultrasonic Cleaner
Allows us to clean your teeth gently as it ultrasonically vibrates off tartar and stain without the need to scrape your teeth hard and give you goosebumps!
Intraoral Camera
You no longer need to wonder what's going on in your mouth – we will show you.  I've found that this tool goes a long way towards building trust with our patients as you can see a large image of what's going on in your mouth. Here's an example of healthy teeth that do not require any treatment.